EXITUS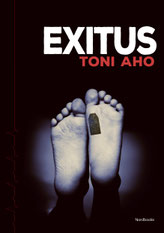 At first, a summer job in a small town in Lapland sounded like a dream come true for a medical student like Milla Vartiainen. However, workdays become a lot more intense than anticipated, and after a while, the young doctor begins to question her own career choices while old issues of mental health return to haunt her. Meanwhile, there seems to be something suspicious about the way some inpatients are perishing. Is there a murderer amongst the personnel of the health care center? has it got something to do with the religious cult that used to reign the community back in the 60's?
Despite her exhaustion, Milla starts to investigate and ultimately everything escalates. She finds herself in a tailspin where the stakes turn out to be much more severe than solely her credibility as a doctor.
Exitus is a medical thriller for everyone interested in what really unfolds behind the doctor's practice door when the darkest corners of human psyche reveal themselves. It is also a growth story - about becoming a doctor and the pros and cons of the profession.