ORGANUS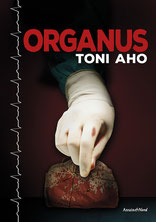 While undertaking her hospital training, Milla Vartiainen meets a teenage girl, who brings up a story about a missing relative. The incident immediately catches the young doctor's interest. Is foul play involved, and if that is the case: who is targeting young adults and why? Is the community dealing with an individual serial killer or organized crime? Also, how can they identify the victims given that the killer has been particularly thorough in concealing their identity?
Meanwhile in Milla's hometown, Oulu, everybody is talking about a new biobank that, when finally set up, will create unique opportunities not only for the pharmaceutical industry but also public health.
Suddenly Milla comes to the realization that the bold new world, based on ambitious centralization of health and social media data, comes with a serious threat that is best left untouched if she was to maintain the safety of not only herself but also her loved ones.
Organus is a solid and captivating thriller that independently continues the Milla Vartiainen -series after the success of its first part, Exitus. The Author Toni Aho, born in 1976 in Oulu, Finland, has a 20 year background as a physician but has been keen on mysteries, suspense and unsolved crimes since childhood. As his inspirations he lists H.P. Lovecraft, Robin Cook and Stephen King, among others.