PARTUS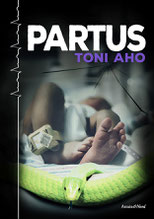 An infant disappears from her stroller in broad daylight. Afterwards, a young trainee doctor Milla Vartiainen begins her assignment in the neonatal intensive care unit of Oulu University Hospital. Challenging work and setbacks in her personal life push her to an unexpected crisis while long-forgotten issues of mental health start to resurge ironically just now when there is a greater need for her to keep it together than ever.
The disappearance of the baby seems to have a connection to the ICU, and Milla is determined to pinpoint it by any means necessary. Suddenly she finds herself in the middle of a nightmare facing evil of such proportions she could not believe it even existed. How to maintain one's sanity while drifting on the murkiest and deepest oceans of humanity, and not to mention – remain alive?
Partus is the third hospital thriller in the novel series by Finnish medical specialist Toni Aho. The previous parts, Exitus and Organus, have been successful and gained fame for their precision while dealing with the ongoing controversial trends in current medicine.